Cape Cod, a hook-shaped peninsula of the US state of Massachusetts, is a popular summertime destination. It's the site of quaint villages, seafood shacks, lighthouses, ponds and bay and ocean beaches. In the large town of Hyannis, the John F. Kennedy Museum is the first stop on the Kennedy Legacy Trail through downtown, where ferries depart to the resort islands of Martha's Vineyard and Nantucket.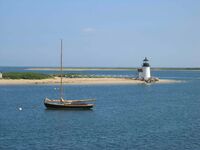 Hotels and lodging
The Platinum Pebble
Attractions
Shopping
Maps and transportation
Getting to Cape Cod
Exploring Cape Cod
Photo gallery
Everything else
Got something to say that doesn't fit in the other sections of this page? Create a new page about it. Start by adding a paragraph exactly as above: for example, copy (from the EDIT BOX) the heading "Nightlife" and the three lines below it, paste in below that section, and change "Nightlife" (in all three places) to your new subject. If it's great, add a snippet below the heading. Then click on the new link and start on the new page.
Practical information and resources
Restaurants
Text with links to user-reviews on other pages
External resources
Add links to other sites here