Cameroon


Information

Capital

Language(s)

French, English (both official); 24 major African language groups

Ethnic Groups

Cameroon Highlanders 31%, Equatorial Bantu 19%, Kirdi 11%, Fulani 10%, Northwest Bantu 8%, Eastern Nigritic 7%, other African 13%, non-African less than 1%

Currency

CFA Franc

National flag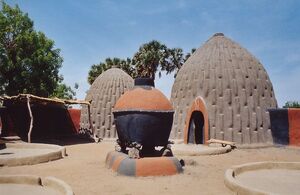 Cameroon (official name: the Republic of Cameroon) is a country located in the central part of Africa and shares its borders with Nigeria, Chad, Central African Republic, Democratic Republic of Congo, Gabon, Equatorial Guinea and the Gulf of Guinea. Before the First World War, it was a colony of Germany and after the end of the war, it was split between the French and British. In 1960 French Cameroun became independent as the Republic of Cameroun and merged with the southern part of British Cameroons in 1961. At that time, it was called the Federal Republic of Cameroon. The name was changed to the United Republic of Cameroon in 1972, and to its present name, the Republic of Cameroon or République du Cameroun. Although people of Cameroon speak many dialects and languages, the official languages of the country are English and French.
Compared to many other countries of Africa, Cameroon is relatively prosperous country and has better roads and railways, developing agricultural activities and extensive petroleum industry related facilities.
Hotels and lodging
Edit
Attractions
Edit
Maps and transportation
Edit
Getting to Cameroon
Edit
Exploring Cameroon
Edit
Practical information and resources
Edit
Restaurants
Edit
Text with links to user-reviews on other pages
Edit
Nightlife
Edit
Photo gallery
Edit
Everything else
Edit
Got something to say that doesn't fit in the other sections of this page? Add it here!
External resources
Edit
Add links to other sites here
Ad blocker interference detected!
Wikia is a free-to-use site that makes money from advertising. We have a modified experience for viewers using ad blockers

Wikia is not accessible if you've made further modifications. Remove the custom ad blocker rule(s) and the page will load as expected.