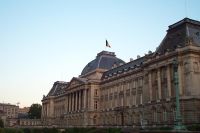 The city, a lively artistic and cultural centre, is home to libraries and museums including the Royal Museums of Fine Arts of Belgium with its 81 rooms, is one of the most important in the world for the conservation of primitive Flemish art and Dutch Baroque art; the Royal Museums of Art and History, which houses classic archaeological exhibitions, Belgium archaeology and displays of decorative and applied art; the Military Museum which contains 450,000 volumes and records; Autoworld, the largest vintage car museum in the world. The Museum of Ancient Art and the Museum of Modern Art are connected by an underground tunnel. Those wishing to admire Art Nouveaux, should visit Hotel Van Eetvelde, 2-4-6-Avenue Palmerston, Mauson Van Dijk, 85-87 Bd. Clovis, Solvay house, Horta House and Stoclet building, which possesses frescoes of artist Gustav Klimt.
Grand-Place (Dutch: Grote Markt), possibly one of the most beautiful squares in Europe and the jewel in Brussels' crown. The Grand-Place is Brussels' top tourist attraction justified by the Gothic magnificence of the (Brussels Town hall) and the Baroque esuberance of the late seventeenth-century guildhouses surrounding the square.
Royal Museum of Fine Arts a great museum, combining four interconnected sections of old masters and modern art collections. Together they make up Belgium's most complete collection of fine art with works by, amongst many, Pieter Bruegel, Rubens, Delvaux and Magritte.
Basilica of the Sacred Heart in Koekelberg
Manneken Pis
Saint Michael and Saint Gudula Cathedral
The Floral Carpet (not permanent)