Bhutan
Talk

0
2,503pages on
this wiki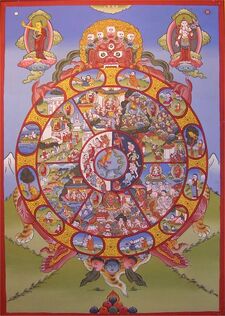 The Kingdom of Bhutan, also spelt as Bootan, is a land-locked country of South Asia. It shares its northern borders with the People's Republic of China and Tibet, and on the southern sides with India. The picturesque lands of Bhutan was known historically by a number of names such as Southern Land of Darkness (Lo Moen), Southern Land of the Sandalwood (Lhomoen Tsendenjong), Southern Land of Medicinal Herbs (Lho Men Jong) and many others. Bhu-Uttan (meaning high lands), a word of Sanskrit language, a language spoken in ancient India, aptly describes the topography of the terrain of Bhutan located an elevation of 7,000 m and protected within the lap of the mighty Himalayas. On account of its location, the place has remained generally inaccessible for centuries, and holds an exotic charm of its own.
Bhutan is spread over an area of around 47,000 sq km, and has a population of 672,425 (2005). The largest city is Thimphu which is also the capital city, and the languages spoken are Dzongkha and English.
Hotels and lodging
Edit
Attractions
Edit
Maps and transportation
Edit
Getting to Bhutan
Edit
Exploring Bhutan
Edit
Practical information and resources
Edit
Currency: Ngultrum (BTN)
Time zone: BTT (UTC+6:00)
Language: Official langiages are Dzongkha and English
Restaurants
Edit
Text with links to user-reviews on other pages
Edit
Nightlife
Edit
Photo gallery
Edit
Everything else
Edit
Got something to say that doesn't fit in the other sections of this page? Add it here!
External resources
Edit
Add links to other sites here