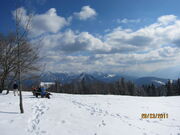 This is a view from the top of the Gaisberg. It's a small mountain outside of Salzburg Austria. It stands 1288m high or 4,226 feet.
It's a short hike to the top. It's a good starter climb if you are interested in learning to climb mountains. They have a road route and bike routes as well as walking paths. There's even paragliding at the top.
There's a small shack at the top where you can warm up, have food and drink to recharge your batteries and even use the bathroom.
They only take cash, so bring your Euros.
Ad blocker interference detected!
Wikia is a free-to-use site that makes money from advertising. We have a modified experience for viewers using ad blockers

Wikia is not accessible if you've made further modifications. Remove the custom ad blocker rule(s) and the page will load as expected.