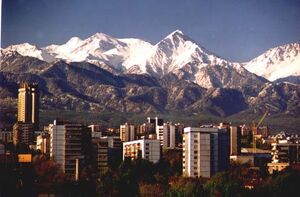 Welcome to Almaty, Kazakhstan! I invite you in the very center on the Eurasian continent. Here you can see the name Almaty on the new map or Alma-Ata on the old one ( latitude 43° North, longitude 77° East). It's a biggest city of Kazakhstan the former Soviet republic which became independent in December 1991.
In contrast to the majority of hot south cities presented here in Virtourist Alma-Ata has no sunny beaches, palm trees, and crowds of tourists.
The exceptional position of the city forms its character. Situated near mountains at about 1000 m above the sea level with the soft climate, having good natural conditions for gardening, Alma-Ata is surrounded with apple gardens. Many streets run straight to the gardens. Even the name Almaty was given to the city because of apples. ("Alma" means "apple" in Kazak) You can see gardens everywhere. Few minutes driving from the center and you are among apple trees. Look here ... It's a beautiful place at any time. Silence and windless, sunny weather and nice mountains view make you a good mood. No one can imagine we are a few meters from one of the main streets of the city in the upper region.
Hotels and lodging
Attractions
Shopping
Maps and transportation
Getting to Almaty
Exploring Almaty
Practical information and resources
Currency: Tenge (KZT)
Time zone: (UTC+5 to +6)
Official language(s): Kazakh & Russian
Restaurants
Text with links to user-reviews on other pages
Nightlife
Photo gallery
Everything else
Got something to say that doesn't fit in the other sections of this page? Add it here!
External resources
Add links to other sites here
Ad blocker interference detected!
Wikia is a free-to-use site that makes money from advertising. We have a modified experience for viewers using ad blockers

Wikia is not accessible if you've made further modifications. Remove the custom ad blocker rule(s) and the page will load as expected.