Algeria


Information

Capital

Algiers

Language(s)

Arabic (official), French, Berber dialects

Ethnic Groups

Arab-Berber 99%, European less than 1%

Currency

Dinar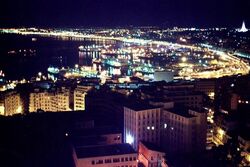 Algeria, covering an area of 2,381,741 km², is the second largest country of Africa, the first being Sudan. The name Algeria is derived from the Arabic word al-jazā'ir, that is, the islands. This probably refers to the four islands which were located off the city of Algiers and which later on became part of the mainland. This may be true too as the older name of the country was jazā'ir banī mazghannā - "the islands of (the tribe) Bani Mazghanna". The estimated population of the country in 2005 was 32,854,000. Major cities of Algeria are Algiers, Oran and Constantine.
Algeria's climate is hot though a little milder in the coastal region. Its terrain is mountainous, particularly the coastal area. However, certain regions south of the coast are fertile. If you move further south from this fertile area, you will again find mountain ranges of the Atlas Mountain.
History
Hotels and lodging
Edit
Attractions
Edit
Maps and transportation
Edit
Getting to Algeria
Edit
Exploring Algeria
Edit
Practical information and resources
Edit
Currency: Algerian dinar (DZD)
Time zone: CET (UTC+1)
Official language(s): Arabic
Restaurants
Edit
Text with links to user-reviews on other pages
Edit
Nightlife
Edit
Photo gallery
Edit
Everything else
Edit
Got something to say that doesn't fit in the other sections of this page? Add it here!
External resources
Edit
Add links to other sites here
Ad blocker interference detected!
Wikia is a free-to-use site that makes money from advertising. We have a modified experience for viewers using ad blockers

Wikia is not accessible if you've made further modifications. Remove the custom ad blocker rule(s) and the page will load as expected.