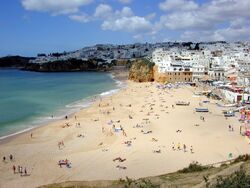 Hotels and lodging

Club Albufeira is a popular family holiday resort just 2 km from Old Town Albufeira.It has magnificent pools,each with their own cafeterias,an on-site restaurant,and a friendly multilingual reception office.
The accommodation mainly consists of self-catering apartments of types T1 (single bedroom and bathroom),T2 (two twin bedrooms and two bathrooms),T3 (three twin bedrooms and two bathrooms.There is a portal for reservations of privately owned apartments and villas on the Club Albufeira.
Attractions
Shopping
Maps and transportation
Getting to Albufeira
Exploring Albufeira
Practical information and resources
Restaurants
Text with links to user-reviews on other pages
Nightlife
Photo gallery
Everything else
Got something to say that doesn't fit in the other sections of this page? Add it here!
External resources
Add links to other sites here
Ad blocker interference detected!
Wikia is a free-to-use site that makes money from advertising. We have a modified experience for viewers using ad blockers

Wikia is not accessible if you've made further modifications. Remove the custom ad blocker rule(s) and the page will load as expected.