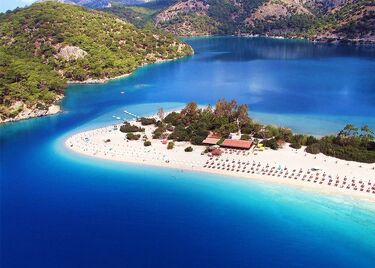 Ölüdeniz, one of the most photographed beaches in the Mediterranean, is a small resort village. It is located in the Muğla Province on the South West coast of Turkey. On its south lies the Aegean Sea and the high, steep sided Babadağ Mountain. Ölüdeniz has a secluded sandy bay at the mouth of Ölüdeniz, on a blue lagoon. The lagoon has been declared as a national reserve and construction works are strictly prohibited. This resort village is really charming and is famous for its shades of turquoise and aquamarine. Travel Journals frequently rate this resort village amongst the top 5 beaches in the world.
Hotels and lodging
Edit
Attractions
Edit
Maps and transportation
Edit
Getting to Ölüdeniz
Edit
Exploring Ölüdeniz
Edit
Practical information and resources
Edit
Restaurants
Edit
Text with links to user-reviews on other pages
Edit
Nightlife
Edit
Photo gallery
Edit
Everything else
Edit
Got something to say that doesn't fit in the other sections of this page? Add it here!
External resources
Edit
Add links to other sites here
Ad blocker interference detected!
Wikia is a free-to-use site that makes money from advertising. We have a modified experience for viewers using ad blockers

Wikia is not accessible if you've made further modifications. Remove the custom ad blocker rule(s) and the page will load as expected.